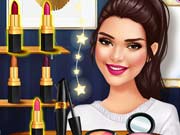 Kylie & Kendall Sisters Break Up
Category :
girl
Note :
(0)
---
Description :
Have you heard that? The famous Kylie and Kendall Sisters break up! In the quarrel, one of them thought that the other's career was useless, and the other thought that her makeup technique was not good. They decided to battle through the makeup competition. After Kylie and Kendall each made up, they put on new clothes. See who is a veritable fashion icon.
Control :
Use the mouse to play.
Author :
enjoydressup.com
---
Comments
Please login or register to post a comment