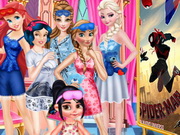 Vanellope And Princesses Movie Party
Category :
girl
Note :
(0)
---
Description :
Vanellope invites the princesses to watch the movie with her. In order to spend a comfortable weekend, they want to change into comfortable leisure wear. Please choose the pajamas and decorations in the closet for these girls. Then, you can pick one of the latest movies as tonight's movie. All princesses enjoy this comfortable movie night! Have fun with the princess!
Control :
Tap on the screen on mobile phone and mouse click on PC.
Author :
babygames.com
---
Comments
Please login or register to post a comment